Siva Shanmugam, Chemical Engineering PhD candidate has won the student poster competition during the seventh Pacifichem Congress in Honolulu, Hawaii.
The winners were announced on Friday 18 December 2015.
Pacifchem received 7,500 abstracts from around the world to compete in the poster competition. 350 posters were selected as finalists and from that pool 54 posters were then awarded as the winners. Three of the winners were from Australia including Siva Shanmugam. The poster competition was open to graduates and undergraduates.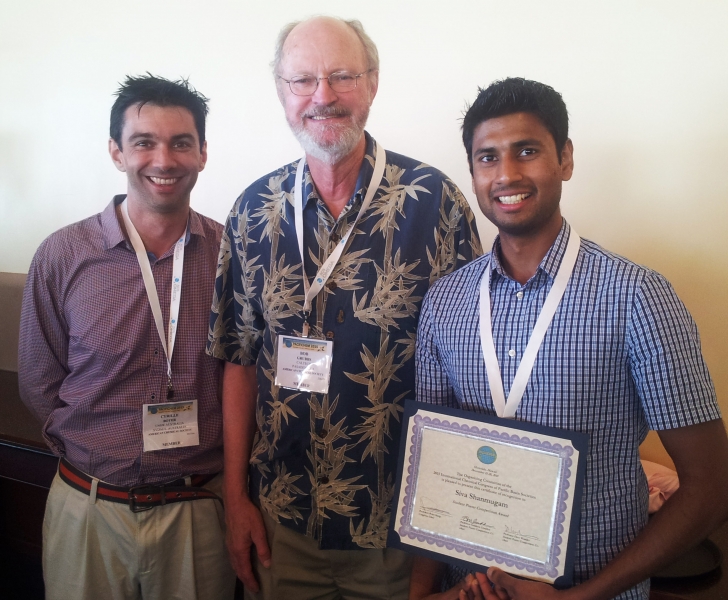 Siva Shanmugam's abstract:
Recent developments in controlled/living radical polymerization such as Atom Transfer Radical Polymerization (ATRP)3,4 and Reversible Addition Fragmentation Chain Transfer (RAFT)2 employ the use of transition metal photocatalysts as external regulators for spatial and temporal control of radical polymerization. However, these catalysts are highly toxic and require several steps of purification before their products are deemed safe. Furthermore, they exist in trace amounts in earth's crust, and therefore, making them expensive and limiting their potential for industrial applications. In order to overcome the inherent problems of transition metal photocatalysts, development of renewable photocatalysts from biological resources is highly desirable. Chlorophyll in green plants plays a crucial role in photosynthesis where it harnesses sunlight leading to the reduction of carbon dioxide to sugars. By extracting this naturally abundant resource from spinach, RAFT chain transfer agents can be utilized to both initiate and mediate controlled radical polymerization of a range of functional monomers with excellent control over molecular weight and molecular weight distributions. In addition, the use of bacteriochlorophyll (BChl a) derived from Rhodopseudomonas sphaeroides introduced a new frontier for light mediated polymerization for controlled/living radical polymerization where near-infrared can be used as a trigger for polymerization with a single photocatalyst.5 
1Shanmugam, S.; Xu, J.; Boyer, C., Chemical Science 2015; 6 (2), 1341-1349
2Xu, J.; Jung, K.; Atme, A.; Shanmugam, S.; Boyer, C., Journal of the American Chemical Society 2014, 136 (14), 5508-5519
3Fors, B. P.; Hawker, C. J., Angewandte Chemie International Edition 2012, 51 (35), 8850-8853
4Treat, N. J.; Sprafke, H.; Kramer, J. W.; Clark, P. G.; Barton, B. E.; Read de Alaniz, J.; Fors, B. P.; Hawker, C. J., Journal of the American Chemical Society 2014, 136 (45), 16096-16101
5Shanmugam, S.; Xu, J.; Boyer, C., Light-Regulated Polymerization under Near-Infrared/Far-Red Irradiation Catalyzed by Bacteriochlorophyll a. Angewandte Chemie International Edition 2015.
About Pacifichem Congress 
The 2015 International Chemical Congress of Pacific Basin Societies (PAC CHEM™), took place in Honolulu, Hawaii, USA, December 15-20, 2015. The conference is sponsored jointly by the American Chemical Society (ACS), the Canadian Society for Chemistry (CSC), the Chemical Society of Japan (CSJ), the New Zealand Institute of Chemistry (NZIC), the Royal Australian Chemical Institute (RACI), the Korean Chemical Society (KCS), and the Chinese Chemical Society (CCS). The American Chemical Society is the host society for the 2015 Congress. 
Founded in 1984, these conferences have been held in Honolulu, Hawaii about every five years.